About
Successful completion of the Advanced Mutual Funds Advice (AMFA) Certification Examination is required in order to receive the Certificate in Financial Services Advice (CFSA).
The AMFA Certification Examination will assess your expertise in financial planning, retirement and estate planning, the principles of ethics and wealth management, and tax and personal risk management. The effort required to review the course material in preparation for the 100-question multiple-choice examination will depend on how recently you completed the prerequisite requirements. If you completed them recently, you may need just a short review period to prepare for the exam. If the gap between the date on which you completed the course and the date of your examination attempt is significant, we encourage you to spend more time preparing for the exam.
The AMFA Certification Exam tests your understanding of the seven courses included in the AMFA program.
Who should enrol?
Only those students who have passed the seven courses in the AMFA program are eligible to register for the AMFA Certification Examination. Upon successful completion of this exam, students who have completed the pre-requisite requirements on the learning path will be granted the Certificate in Financial Services Advice (CFSA).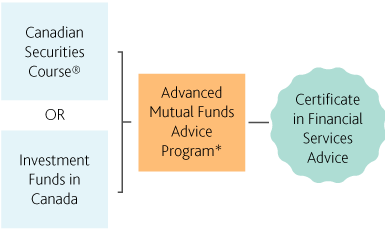 The Certificate in Financial Services Advice is also on the path to the Personal Financial Planner (PFP®) designation.